You are here
Usine Cavrois-Mahieu (Roubaix) joins the Industriana network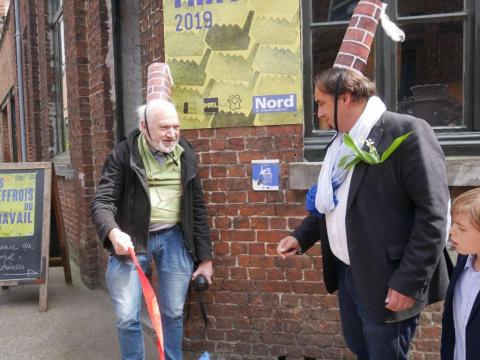 At some 3 km from the famous Villa Cavrois ( built in 1932 by the architect Robert Mallet-Stevens ), the Cavrois-Mahieu woollen mill is a witness of the industrial adventure of the Cavrois family, but also of the thousands of workers and various executives who worked there from 1887 to 2000.
It has been transformed into a "business hotel", bringing together various activities, from a construction company till modern ICT and offices.
On the three hectares occupied by the factory, the non profit association Non-Lieu occupies a part of 900 m2, including the boiler room, the maintenance workshop and storage. The association's challenge is to preserve, as much as possible, the traces of previous activity and to introduce a new use, essentially cultural and artistic.  
On May 1st, during the chimneys festival 'Les Beffrois du Travail' (The Belfries of Labour), the Industriana-label was inaugurated by the mayor of Roubaix